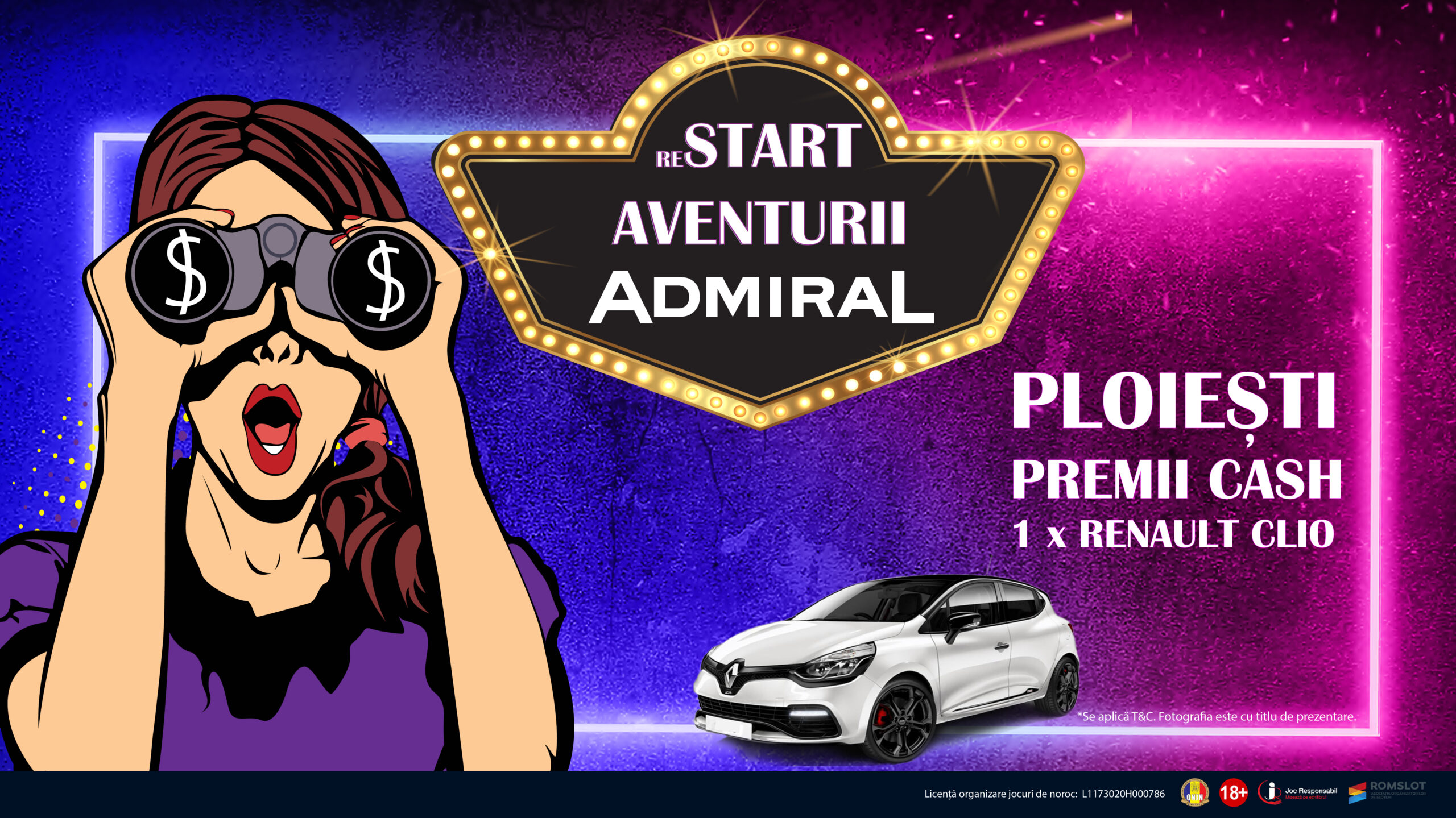 🎉 We press ReSTART on the ADMIRAL Ploiesti Adventure with 1 Renault Clio and CASH prizes!
---
Can you imagine what it would be like to drive a Renault Clio?
ADMIRAL Ploiesti turns your dreams into reality!
Join the ADMIRAL REloaded campaign between November 19th, 2021 – May 13th, 2022 and accumulate as many tickets as possible in any of the halls participating in the campaign in the city.
Accelerate to fun at the monthly draws that will take place on Fridays and you can win generous CASH prizes of up to 150,000 lei and a dynamic Renault Clio car.
---
To participate in the draws, you can get raffle tickets, as follows:
➡ Slot machine – For every 50 Lei played (IN-OUT) 1 participation ticket is granted;
➡ Roulette – For every 100 Lei played (IN-OUT) 1 participation ticket is granted;
➡ Sports betting – for each non-winning betting ticket* placed with a minimum stake of 50 lei, 1 participation ticket is granted;
* the non-winning betting ticket remains with the organizer's staff
➡ Game participants who come accompanied** are given 3 participation tickets.
** the attendant must participate in the game
➡ In-shop payment processing – for each deposit*** in the amount of 100 lei, 1 participation ticket is granted.
*** all the clients registered on www.admiral.ro will participate in this campaign, who, during the action, will supply their game account with a minimum of 100 lei in the participating locations.
---
The draws and the awarding of prizes will take place in the ADMIRAL hall in Ploiesti, Bd. Republicii, no. 15 and will be broadcast online and can be watched by all participants in the campaign, in other locations in the city!
⚡ 25,000 lei each (the total value of the CASH prizes) were put into play for you on December 17th, 2021, January 14th, February 11th, March 11th and April 15th, 2022.
⚡ 25,000 lei + 1 Renault Clio car (total value of the prizes) we have prepared for the GREAT DRAW from May 13th, 2022.
---
Make up your mind right now! Accumulate the winning tickets today!
It's time to recharge with prizes!
You can always request more information from the staff of the locations participating in the campaign.
**The car in the picture is for presentation only.
You can consult the complete regulation here.