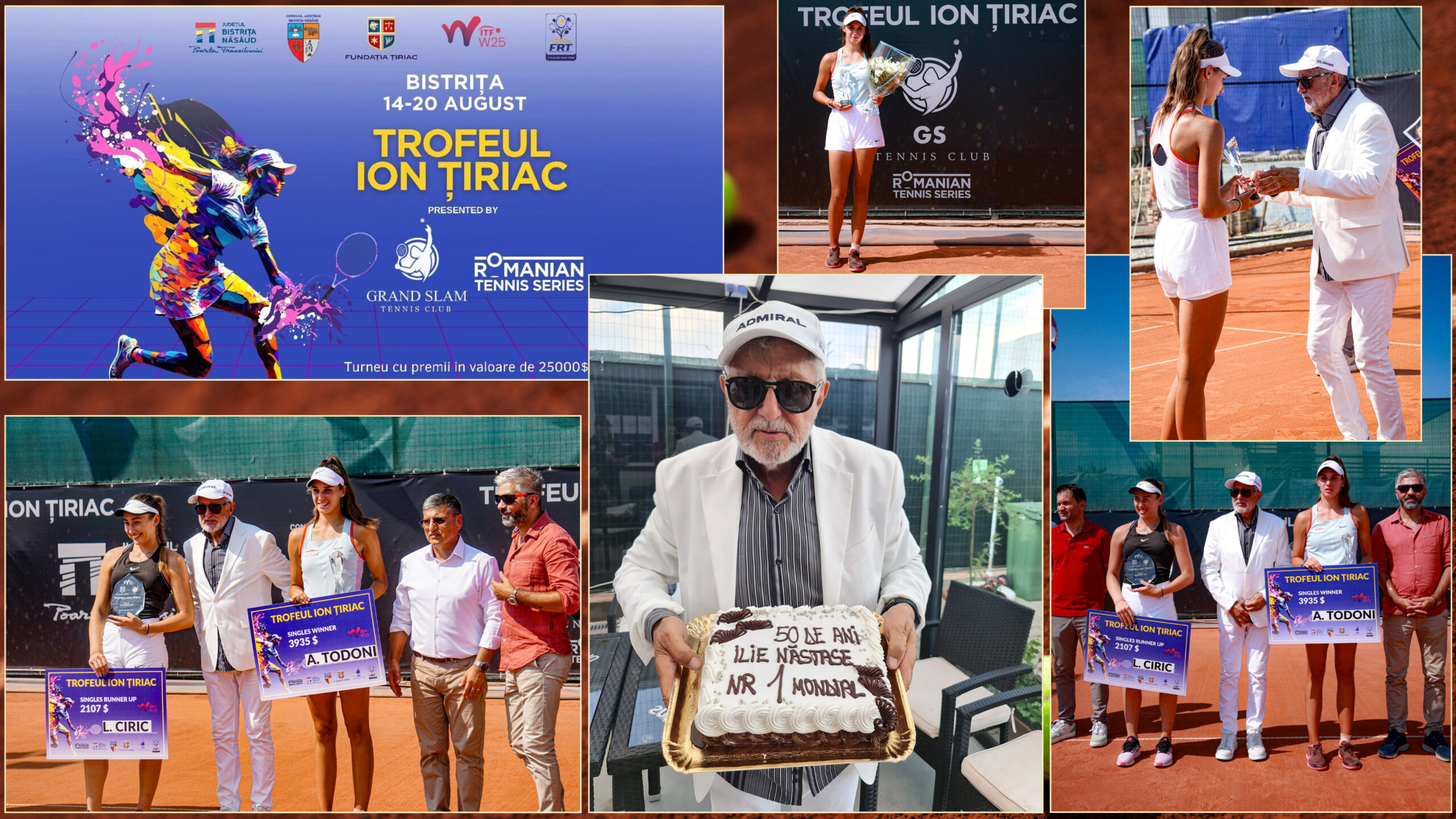 🎾 Celebration at the 3rd power within the Ion Țiriac Bistrita ITF 25K Trophy, 2023 edition
---
The Ion Țiriac W25 trophy took place between August 14 – 20 in Bistrita where it brought together tennis enthusiasts, young tennis players, but also emblems of Romanian tennis, such as Ilie Năstase and Ion Țiriac.
The Romanians won everything they could at the "Ion Țiriac Trophy" from Transilvanias Gate! Anca Todoni won the singles title, after a 100% Romanian team triumphed in the doubles event.
On August 23rd, on the very day of the singles final, Ilie Năstase, the ADMIRAL Brand Ambassador, was also present, who celebrated on the same day 50 years since he became world No. 1 in the ATP ranking.
The Ion Țiriac trophy held at the Grand Slam Arena in Bistrita was won by Anca Todoni, who was handed it by the great tennis player Ilie Năstase.
"In the week that marks 50 years since I became world number 1, I am happy to be with you in Bistrita and to hand the trophy to the winner of this tournament, who I wish her much success in the future. I hope that the tournament here will become a tradition", said Ilie Năstase after the awards ceremony.
We appreciate the memorable moments he gave us throughout his career and the significant contribution he made to the white sports landscape and we congratulate the grandmaster.
"We are honored to have with us such an appreciated name in world sports, as is Ilie Năstase. We are delighted that he has accepted our invitation to join our team and I am convinced that we will achieve amazing things together. I have always admired Ilie Năstase's winning spirit and sportsmanship and human qualities, and I think he perfectly complements ADMIRAL's values. We want an open discussion with our customers and, at the same time, to be with the models of Romanian sport, and this leads me to believe that we have made, together with my team, the best decision through this partnership" declared Valentin-Adrian Georgescu, CEO NOVOMATIC Romania.
We invite you to visit the museum-like showcase, visible from the outside of the ADMIRAL ADAM gaming hall, located next to the Palace Hall, where precious exhibits from the extraordinary career of the world champion can be admired by all passers-by, available free of charge to all.